More companies are basing employee bonuses on multiple factors of performance.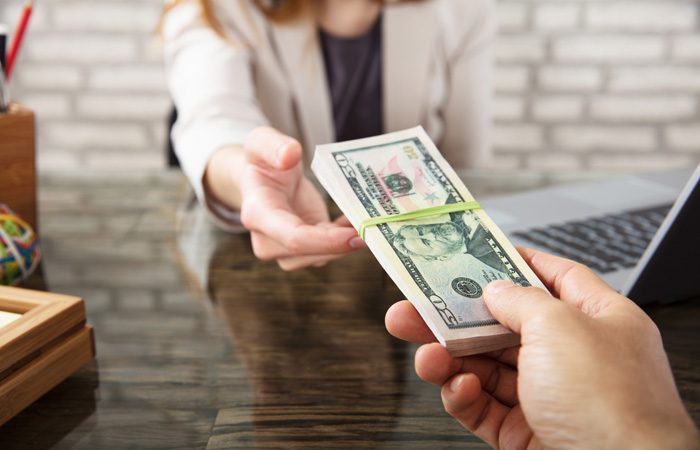 Employers are expected to allocate the largest amount of their payroll budget to bonuses in the history of Aon's 43-year study.
Structured bonus programs reached record-high funding levels this year and are projected to do the same in 2020, says Ken Abosch, an employee rewards consulting leader at Aon, a global consulting firm.
On average, he says, companies in 2020 are planning to budget 13.1% of payroll for bonus expenses, up from 12.9% in 2019 and 12.5% in 2018.
"Unfortunately, these bonuses aren't for everyone, like clerical or hourly workers," Abosch says. "This has been a long-standing trend that hasn't budged very much … about 25% of hourly workers are covered by these types of arrangements."
Like other incentive plans, bonus programs have evolved over the decades. Among the most popular are individual employee-performance plans (23% offer such bonuses, according to a recent Aon survey of roughly 400 mid-to large-size employers) and special recognition plans (52% offered spot bonuses in 2019, compared to 51% in 2017, reports Aon). However, the trend is shifting toward business-incentive plans or bonuses based on multiple performance layers, such as overall company results, individual performance and business unit outcomes.  This year, approximately 85% of organizations surveyed by Aon have adopted this approach, up from 77% in 2015.
"When employees below the executive level started getting bonuses, 80% to 90% were individual-performance plans … a discretionary award given at the end of the year based on a manager's judgement," Abosch says. "Managers weren't really equipped to make good decisions, so they eliminated those plans, which became profit-sharing plans that focused more or less on company performance instead of individual performance."
Related: Big blue-collar bonuses
However, he says, many companies don't support spot bonuses, believing they're difficult to manage, aren't valued by employees and don't motivate workers. Unfortunately, some employers or managers have watered them down by handing them out to all staff throughout the year. But others have designed a selection process and are now realizing their powerful impact. Since spot bonuses are awarded shortly after an employee accomplishment, Abosch says, "the psychic income value is greater than the actual monetary value."
Still, business-incentive plans are by far the most popular because they enable companies to accomplish alignment and line of sight. Research has shown the importance of making sure employees are aligned to the company's objectives and goals and thinking about how to help drive them, he explains.
"More high-performance organizations have come to the realization that broad-based variable pay is the most effective way to send a strong pay-for-performance message and truly differentiate rewards for high performers versus low performers," Abosch says. "This form of compensation has evolved from a nice-to-have or thank you at the end of the year to a meaningful weapon in the arsenal of tools that motivate employees to achieve required business results."
Bigger Bonuses, Broader Base
Small organizations have more wiggle room when awarding bonuses. Consider St. John Properties, a real estate company that divvied up $10 million among its 198 employees in bonuses at its holiday party this year. Based on tenure, the bonuses ranged from $100, given to an employee who hadn't stared his job yet, to $270,000 for a longtime employee.
Although that's not realistic for large organizations employing thousands of workers, 48% of companies that offer holiday or year-end bonuses plan to either increase them or keep them the same, according to a 2019 survey conducted by Robert Half, a global recruiting firm. Yet, 4% anticipate reducing them. The research found that organizations in Nashville, Austin, Denver and Minneapolis are most likely to increase bonuses.
"Over the last couple of years, companies seem to be investing and engaging in these markets," says Luke Stratmann, metro market manager at Robert Half. He believes the bonus increases may be needed to attract more skilled talent to these communities.
Another trend is enhancing transparency. He says more employees receive bonuses out in the open, in front of their peers, where they can be cheered and applauded for specific accomplishments.
See also: The 6 key elements of employee experience
In the future, Stratmann believes bonuses will be handed out "all the way from the top to the absolute bottom of an organization if we continue to exist in the current employee climate."
Meanwhile, OneDigital has been advising its clients to be more creative regarding bonuses, says Stacy Strauser, director of compensation consulting at the employee-benefits and health-consulting firm.
While cash remains king, she says, examples of creative bonuses include training opportunities or enabling employees to work from home for one month. Also consider awarding bonuses to larger groups and for more reasons like helping co-workers complete a task, demonstrating the organization's values or serving as an exceptional team member.
"Have your ducks in a row and document the bonus program in advance, on your website," says Strauser, adding that a website posting could say that employee bonuses are based on tenure and the result of the company's outstanding year. "Always tie bonuses to employee or company performance, and make sure employees know that bonuses are not an entitlement."
Carol Patton is a contributing editor for
HRE
who also writes HR articles and columns for business and education magazines. She can be reached at
[email protected]